Christmas is a fantastic time to visit us at Allington Farm Shop, packed full of delicious Christmas goodies, we have your every Christmas need from superb premium Christmas Trees to fabulous, handmade gift hampers and from Brussel Sprouts grown in Sherston to our delicious home-reared turkeys and luxury homemade Christmas Cakes, we are a one-stop, Christmas Shop!
---

Throughout the COVID-19 pandemic, we have remained open and have been working hard to adapt to keep our staff and customers safe.
Christmas will be different for us all this year and whilst the government guidance and restrictions continue to change, we have have been striving for solutions to enable us to serve our customers in the safest way possible.
Thank you for bearing with us during the festive period. We're trying to adapt to COVID-19 life as much as you are! 
These are the ways in which we are working to keep us all safe during the busy period;
1. We will be creating extra space in-store and outside, with the use of temporary buildings.
2. An extension of our opening hours and booking of shopping slots online, will help to spread visiting customers throughout the day and alleviate long queuing times.
3. We will continue to offer contactless collections, which will be delivered to your car.
4. We will be allocating time slots for meat order collections on 22nd, 23rd and 24th December, to spread our customers out more evenly throughout the day, again, to and alleviate long queuing times.
Orders are now being taken for Christmas online and in our in-house butchery; our home reared turkeys are naturally matured on the farm, just behind the farm shop, in large open fronted barns on deep straw bedding.
Our Turkeys are dry plucked, hand finished and then hung for at least 7 days in cold rooms; a process that preserves the natural texture and enhances the superior flavour of the bird.
As well as home-reared turkeys, the butchery specialises in local free-range cockerels, chickens, geese, ducks and home-cooked hams, all cuts of pork, beef and lamb as well as local seasonal game, dry-cured bacon and gammon joints and homemade sausages.
---

22nd December
23rd December
24th December
---
We have a reputation for our fantastic selection of the highest quality real Christmas trees. All of our Christmas Trees come from independent UK growers and we also have a plantation of our very own real trees for sale.
We have a large range of sizes and varieties and both cut trees and pot grown trees. We also stock a range of Christmas Tree Stands.
On sale from 28th November
Prices from £15

Stuck for Christmas gift ideas? If so, why not send a bespoke hamper to your loved ones with everything you know they love?
Our fabulous hampers are tailor-made to your requirements; there is a huge range of hamper baskets ready to be filled to the brim with the goodies of your choice. We have an extensive range of locally produced goods on sale (any of which can be included) from local cheese, chutneys and biscuits, fine wines, local ales and ciders, preserves, cakes and chocolates.
Please pay us a visit, email or telephone to place an order. If you're stuck for ideas, then we will put you in touch with one of our hamper artists who can give you some inspiration!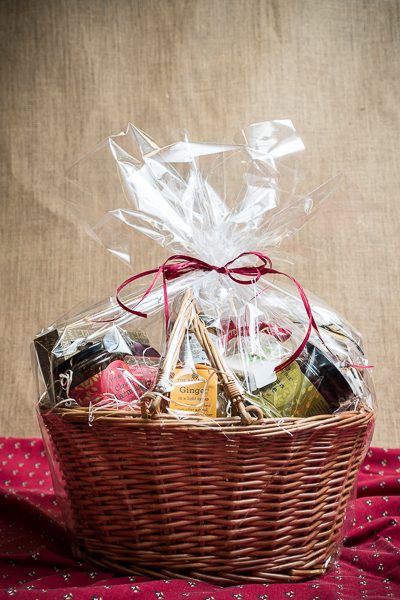 ---
Friday 18th December 8am – 7pm
Saturday 19th December 8am – 7pm
Sunday 20th December 9.30pm – 5pm
Monday 21st December 8am – 7pm
Tuesday 22nd December 8am – 7pm
Christmas Opening Hours
Wed 23rd December 8am – 7pm
Thursday 24th December 8am – 4pm
Friday 25th December Closed
Saturday 26th December Closed
Sunday 27th December Closed
Monday 28th December 9am – 5pm
---
Tuesday 29th December 9am – 5pm
Wednesday 30th December 9am – 5pm
Thursday 31st December 9am – 4.30pm
Friday 1st January Closed
Saturday 2nd January 9am – 6pm