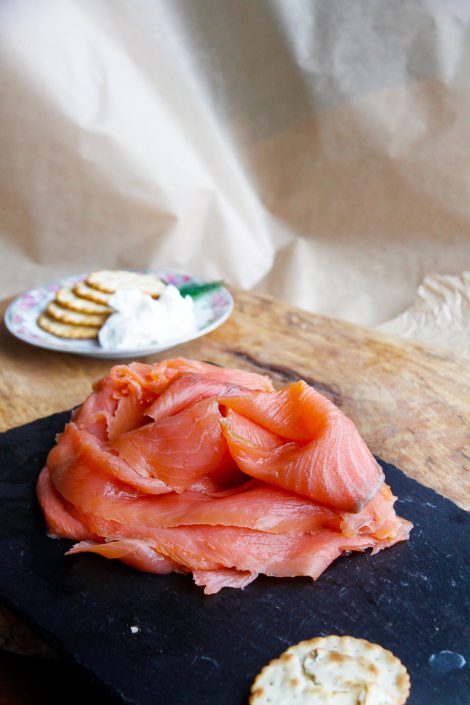 Fish – Smoked Salmon
Brown & Forrest Smoked Salmon
About their salmon –
Sustainably farmed Scottish salmon which we score the skin side and hand cure with salt and brown sugar. Salmon is cured for 4-6 hours to remove moisture from the salmon side before washing the cure off and chilling for 24 hours. This chilling process helps to dry the salmon sides out slightly and give the salmon a much firmer texture. The combination of curing & chilling also ensures that there is an even smoked flavour throughout the smoked salmon sides. Once chilled we cold smoke the salmon sides in our traditional brick smokers at room temperature for 24-36 hours. The smoked salmon sides are then individually checked by our master smoker to make sure every smoked salmon side is fully smoked – this is done by touching the salmon sides, holding them flat in your hand & visually checking the salmon for an even smoking. The smoked salmon sides are then chilled again for at least 24 hours, this is to let all the oils (flavours) to relax and settle (bit like resting meat after cooking). Our smoked salmon is now ready to pack, slice & process!
---
We will ask for a deposit to be paid, when you place your order with the balance to be paid on collection.
---
Collection Only – Christmas Meat Orders are for collection from Allington Farm Shop only. Collection dates are 22nd, 23rd & 24th December, select your preferred collection date at the checkout.
The final price will be calculated on the exact weight of the product, so may vary slightly from the price calculated online.
---
Please select your required weight below.
Additional information
| | |
| --- | --- |
| Weight | 100g, 200g, 600g, 1kg |